Lakers coach Mike D'Antoni benches Pau Gasol permanently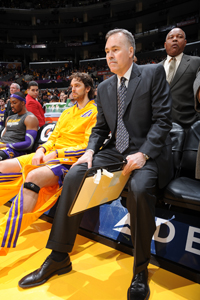 Awkward.
(Getty Images)
Coach Mike D'Antoni announced Monday night that Pau Gasol, a former All-Star and two-time NBA champion with the Lakers, has been benched, effective immediately, for forward Earl Clark.
The move is considered permanent.
This is not good for anyone. Gasol has bristled at coming off the bench the entire season, even after returning from a concussion, and is unlikely to take this well. Gasol, in the select games he has been healthy enough to play this season, has been inconsistent and lacked focus. Well, more than the rest of the Lakers, I mean.
D'Antoni said his desire is to play small, where he feels the Lakers "play better." Clark has been impressive in his granted minutes.
But this is going to create even more tension, and you have to believe this accelerates the possibility of a Gasol trade. The drama in L.A. continues. The Lakers play the Bulls in Chicago Monday night.
D'Antoni did not indicate he will play Gasol and (Dwight) Howard together in late-game minutes, though. It should be noted that Jackson, Mike Brown and D'Antoni all have struggled to win when playing Gasol with another center at winning time.

D'Antoni is determined now to stick with his style of small ball, saying: "You can't keep going back and forth and guessing." He already spoke to Gasol about the move and said about that conversation: "That's life. He understands."

"You have to have an identity," D'Antoni said. "And you have to create an identity."
via Lakers blog.
D'Antoni also said it allows Gasol to play at his natural position at center. But the issue is that Howard is one of the Lakers' best players, and will get big minutes. How many minutes does that leave for Gasol, one of the highest-paid players in the league?
You have to believe a trade is coming. But where? And for what?