Carmelo Anthony appreciates James Dolan's eavesdropping sting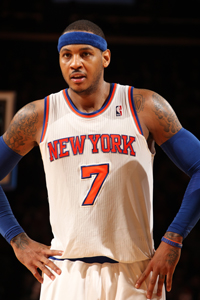 Carmelo Anthony says he's happy his owner has his back.
(Getty Images)
Knicks owner James Dolan set up an audio recording scheme Friday against the Bulls and then Sunday against the Hornets to monitor what his star Carmelo Anthony was saying, and more important, what was said to him.
This likely came as a result of the dust-up with Kevin Garnett where Garnett possibly crossed a line in his trash talk with Anthony.
The Knicks are in London preparing to play the Pistons, and Anthony was asked how he feels about having his in-game conversations recorded. He told reporters via ESPN New York that he actually appreciates it.
"I got an owner that looks out (for me)," Anthony said before practice Wednesday at London's O2 Arena. "You can't beat that."

"If an owner tries to protect their players, trying to protect his player, you can't beat that," Anthony said one day after arriving in London.
Anthony says he appreciates it, and I'm not denying he does, but I feel like most players would take this as implying they can't handle their business on the court. That Melo needs his boss to come in and rescue him from the mean things people are saying to him because he can't do it himself.
Dolan's intention is obviously to protect Anthony, rather than spy on him. The question, though, is what Dolan plans on doing with the audio recordings. If Joakim Noah said something mean to Anthony, is he going to send it to the league office or something?
Knicks' coach Mike Woodson was asked about his reaction to the audio recordings, but he basically dismissed them.
"I don't really care about the miking thing. I don't follow it and haven't followed it," Woodson said. "I got better things to worry about than this miking thing that you guys are talking about."